For academic guest lectures and conference presentations, please see my academic CV at ACADEMIC.
Speaker at book launch of Living in Indigenous Sovereignty, by Elizabeth Carlson-Manathara, published by Fernwood Books, May 20, 2021.
Contributor to podcast North York: The Suburb with Heart, by Sebastian Biasucci, March 2021.
'"Shut up Kid!' An Education in Institutional Disability," for webinar  Doing the Right Thing: Disability, Autism and Special Education, Enoch Turner Schoolhouse Foundation virtual series on Opening the School to All, Jan. 12, 2021.
Missing persons – on the loss of a sibling to institutionalization,   with Victoria Freeman, Marilyn Dolmage and Vici Clarke, Good Things in Life Podcast Series 089, Nov. 18, 2020.
"Love and Accountability in the Face of the Tyranny of the Normal," podcast interview about A World without Martha, Good Things in Life podcast series, with Genia Stephen, Nov. 11, 2020.
Presenter, "Alliance-building in the Academy and the Community," a webinar organized by Dorothy Christian of Simon Fraser University, Nov. 10, 2020.
Breaking Free: Institutions Then and Now, Session 1, August 12, 2020, webinar presenter, hosted by Able2, Down Syndrome Association, National Capital Region, and UBC Press.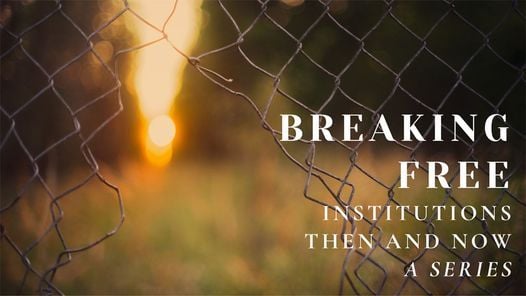 Reading and Q & A
Ben McNally Books, 366 Bay St., Toronto
October 18, 2019
"Birds Make Me Think About Freedom," a presentation with Cheryl Zinyk, Nicholas Herd, and Melissa Marshall at the Emergence Symposium, Toronto Arts Foundation, November 20, 2018.
Listen to My Story: A Workshop for People Supporting Institutional Survivors, panelist, October 26, 2018, Ryerson University. Organized by Madeline Burghardt. Funded by Investing in Justice.
Listen to My Story: A Workshop for People Supporting Institutional Survivors. Panelist.  Funded by Investing in Justice, the Institutional Survivors' Strategic Investment Fund, and by l'Arche Toronto. L'Arche Toronto, May 11, 2018.
"`The Mother of Scarboro': Indigenous history through settler stories," Crossing Scarborough: Nation, Migration & Placemaking between the TRC and the 150, University of Toronto Scarborough, September 28, 2017.
"Distant Relations: How My Ancestors Colonized North America." Aurora Historical Society, Hillary House National Historic Site, Aurora, March 31, 2016
"The Doctrine of Discovery as an Impediment to Reconciliation."  Walter Gordon  Symposium on Public Policy, University of Toronto, March 22, 2016
"Toronto's Indigenous History and Reconciliation",  Opening Night Cabaret and panel discussion on Reconciliation and Community Arts, Emergence Symposium: Arts and Equity Leading Social Change, Neighborhood Arts Network, Evergreen Brickworks, November 12, 13, 2015
"Talking Toronto Treaties: A Multi-Partner Collaboration."  History of Indigenous Peoples Network, York University, Toronto,  Co-presenter. November 10, 2015.
"Good Cop, Bad Cop: Comparing US and Canadian Indigenous History," Commentator on Roxanne Dunbar Ortiz's "The Culture of Conquest and the Doctrine of Discovery: The US as a Colonial Settler-State," York University, October 6, 2015
"Toronto's  Indigenous History,"  Ignite! Experimental Open House and Presentation, Jumblies Theatre, Musica Reflecta, Canada Music Centre, September 12
"Talking Treaties Project: An Introduction," Talking Toronto Treaties Public Event, George Brown Waterfront Campus, June 26, 2015.
"First Story Toronto," National Aboriginal Day Ontario Public Service Celebration, Mowat Block, Toronto, June 2015.
"Anicinabe Park: A History,"  Anicinabe Park, Kenora; "Toronto's Indigenous History," Winnipeg; and "Toronto Treaties: An Introduction," Toronto,  to travelling and local community artists participating in  Train of Thought, Jumblies Theatre, May-June 2015.
"Toronto's Indigenous and Colonial Pasts," Alpha Alternative Public School, March 10, 2015.

"Toronto's Indigenous and Colonial Pasts," The Ground Floor, Jumblies Theatre, 132 Fort York Boulevard, Toronto. Tuesday, Feb. 10, 2015.
"Remembering Toronto's Indigenous and Colonial Pasts," History Matters Series, Thought Exchange Program, Toronto Public Library, January 20, 2015.
"Becoming Real on Turtle Island," Curating in the Haze of Empires Conference, Ontario Association of Art Galleries, Gladstone Hotel, Toronto. November 4, 2014.
"First Story, a Knife and a Cradle: Remembering North York's Indigenous History",  Discover First Nations History: New Perspectives on Community Building and Cultural Exchange, North York Central Library, September 23, 2014.
"Toronto's Indigenous history," Ontario Ministry of Aboriginal Affairs Negotiations and Reconciliation Division Divisional Day mini-conference, Evergreen Brick Works, June 25, 2014.
Keynote address for "Pedagogy from the Heart: an Anti-Colonial Experience," 11th Annual Conference of the Association of College Educators in Social Service and Social Work Programs in Canada (ACESS), Blue Quills First Nation College, St. Paul, Alberta, June 9, 2014.
"First Story and Archaeology," Ontario Archaeological Society, Toronto Chapter, University of Toronto, April 16, 2014. With Brian Maclean.
"First Story," Toronto is Trending: Apps, Social Media and Virtual Reality, sponsored by University College Canadian Studies Program and City of Toronto Historic Sites, University College, University of Toronto, March 17, 2014.
Panelist, "What Does Reconciliation Mean to You?" Massey College, University of Toronto, March 13, 2014.
Speaker, "Niigaan" Teach-In, National Arts Centre, Ottawa, March 9, 2013.
Introductory speaker and discussant for screening of  "It's About Time," second episode of CBC TV series Eighth Fire, on reconciliation, hosted by Planet Indigenous Festival in cooperation with Fort York, August 14, 2012.
Speaker,  Panel on "Revitalizing Reconciliation in Ontario," an event co-sponsored by the Truth and Reconciliation Commission and the Lieutenant Governor of Ontario, Vice-Regal Chambers, Ontario Legislature, Sept. 28, 2011.
Speaker, Panel discussion on "Decolonizing the Heart," People's Summit, Ryerson University, Toronto, June 19, 2010.
"Alliance building between Indigenous and Non-Indigenous peoples," Keynote speaker, Centre for Social Justice Summer Retreat, Algonquin Park, Ontario, August 21, 2009.
One of three featured speakers as part of two-week program for "Bakan Nake'ii Ngii-izhi-gakinoo'amaagoomin: We Were Taught Differently: The Indian Residential School Experience," an exhibit on the history of local residential schools, Lake of the Woods Museum, Kenora. October 23, 2008.
Keynote speaker, "Colonialism and Decolonization," Anglican Church, Meeting of Huron Diocese, at Chippewa of the Thames First Nation, at the invitation of the the Lenni-Lenape Algonkian Iroquoian Council of the Anglican Church, March 10, 2005.
Panelist, "Aanjiiwendamin: Cross-cultural Dialogue on Aboriginal Issues," Native Canadian Centre, April 16, 2005. Member of Aboriginal issues advisory committee for the Centre for Social Justice, Toronto, which organized this event.
Presenter in plenary session and workshop,  with Dorothy Christian (Okanagan-Secwepemc), on "Understanding the Other" at "Human Security through Conflict Resolution," an international  conference sponsored by Initiatives of Change, Caux, Switzerland, August 11-17, 2003. An article about our reconciliation work was published in Fall 2003 issue of For a Change, the international magazine of Initiatives of Change, published in Britain.